5 Best Bandage Scissors
Views:3 Author:Site Editor Publish Time: 2018-03-02 Origin:Site
5 Best Bandage Scissors
Bandage medical shears/scissors are an invaluable tool among medical professionals that rely on shears for cutting bandages, clothing, gauze, tape and other pertinent materials.
A great bandage scissor will allow for easy, fast cutting and will remain reliable and comfortable for extended periods of time.
These 5 excellent bandage scissors each offer their own unique grip and design, but are all capable of providing an excellent cutting experience for the medical professionals who rely on using them daily.
1. Physicians

Care First Aid Titanium Bonded Bandage Shears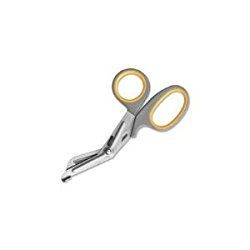 These excellent Titanium Bonded Bandage Shears from PhysiciansCare are designed with 7″
blunt-tip shears that provide a high quality cutting experience for gauze, tape, bandages and clothing among other types of materials.
Physicians Care bandage shears feature comfortable soft yellow and gray grips, titanium bonded blades and a bent handle to ensure a safe, effective and reliable cut for those who rely on their tools for important medical tasks such as nurses, paramedics and emergency personnel.
The titanium bonded shears provide allow the scissors to be stronger than steel, which makes them more reliable for serious, emergency situations that allow little room for error.
2.
Physicians
Care First Aid Titanium Non Stick Bandage Shears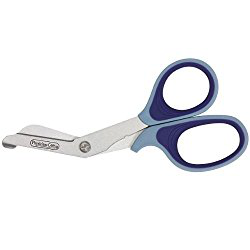 Another excellent bandage shear from PhysiciansCare is their 90293 First Aide Titanium Shears, which feature non stick titanium blades designed to make it easier to cut material that is composed of tape and/or glue.
As with the previous scissors these blades are titanium bonded to improve their durability and incorporate soft grip handles for improved comfort. These bandage shears also embellish an adjustable blade tension for optimal performance and better cutting potential.
3.
Claus Titanium Bonded Bent Snips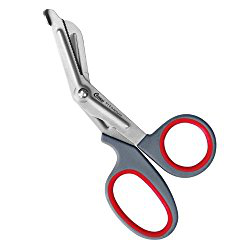 Claus offers a popular brand of Titanium Bonded Bent Snips that's sure to get the job done with less fuss and must than other well known medical bandage scissors.
The titanium-bonded blades on these medical scissors allows them to remain up to 3X harder than stainless steel blades, and a corrosion and adhesive resistant layer ensures excellent operation when cutting through a wide range of materials.
A set of comfortable grips allow the medical scissors to be used for extended periods of time without causing serious discomfort and bent, serrated blades allow for a better, more accurate cut when used at home, in the office or in the work-space.
4.
Prestige Medical Fluoride Scissor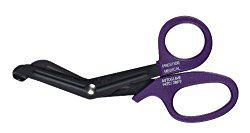 Prestige Medical is a well known provider of medical tools/gear and offers a very popular bandage of Professional Medical Flouride Scissors.
These medical scissors feature a revolutionary fluoride coating that envelopes the scissors with a reliable non-stick surface to allow for an enjoyable cutting experience whether dealing with fabric, bandages or sticky materials.
Prestige Medical's scissors are designed with 5 1/2″ finely crafted, high quality 420 stainless steel blades and a pleasant pair of purple grips for a long and dependable lifespan. They also incorporate an autoclavable construction to minimize damage and yield the best results throughout the life of these medical bandage scissors.
5.
Utopia Care Angled Lister Bandage Scissors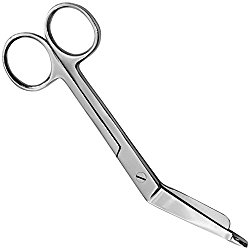 Utopia Care has designed a wonderful ice tempered, stainless steel, Angled Lister Bandage Scissor that is perfect for both home care or professional medical use.These medical scissors feature 7.25″ solid stainless-steel blades with durable sharp edges that make it easy to cut through most commonly worn materials such as fabric, bandages, gauze, tape and other related materials.
The angled, sturdy, short stainless-steel blades have been developed to allow for accurate and seamless cuts that allow you to focus on more important tasks rather than worrying about the material you have to cut through and the shorter upper blade reduce the risk of causing harm to yourself or other when cutting.