Barcelona attack
Views:1 Author:Site Editor Publish Time: 2017-09-01 Origin:Site
A group of 12 jihadists has been blamed for a series of attacks in and around the Spanish city of Barcelona, killing 15 people.
A van mowed down tourists and residents on Barcelona's famous Las Ramblas boulevard, and a car was driven into pedestrians in the popular seaside resort of Cambrils. For days, suspected Ramblas attacker Younes Abouyaaqoub was on the run before police shot him dead.
What happened?
It was at 16:50 (14:50 GMT) on Thursday 17 August that a white van careered down Las Ramblas at high speed, while the avenue that runs 1.2km (0.75 miles) was packed with tourists.
Witnesses said the driver zigzagged along the pedestrianised area, trying to hit as many people as possible. Many were knocked to the ground while others fled for cover in nearby shops and cafes.
The driver killed 13 people and injured more than 100, and then fled. Catalan police rushed to scene and told the public to stay in cafes and restaurants as they combed the area for at least one attacker.
Eight hours later, a black Audi A3 car ploughed into pedestrians at Cambrils, 100km (68 miles) down the coast from Barcelona. A Spanish woman was killed.
Pictures of scene: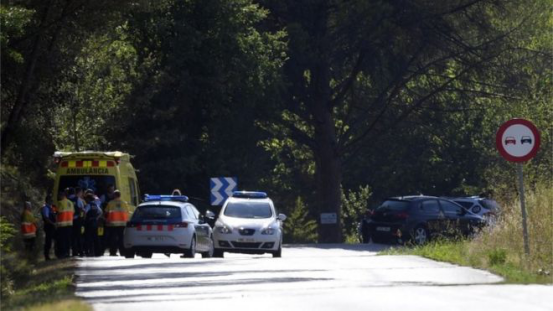 Spanish police have shot dead the main suspect in last Thursday's Barcelona attack.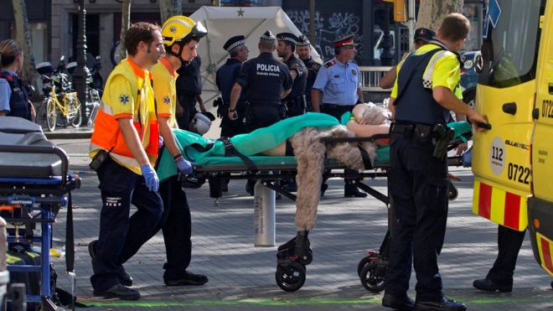 Ambulance transport victims used stretcher to nearby hospital, let them receive emergency treatment. At least 13 people have been killed and dozens more injured after a van drove into crowds in Barcelona's Las Ramblas tourist area.