Berwyn police, fire train school staff to use tourniquets
BERWYN – Berwyn elementary school employees are learning how and when to apply a
tourniquet to stop heavy bleeding through training by the city's police and fire departments.
Police Cmdr. Joseph Santangelo said the staffs of Berwyn North School District 98 and
Berwyn South School District 100 who are being trained "can save somebody's life in a
matter of seconds," whether it is students, colleagues or themselves.
Police administration came up with the idea for the training, and Santangelo said he
designed the program. All Berwyn police officers carry tourniquets and have been trained
by the U.S. Department of Homeland Security, he said.
"We always refer to police and fire personnel as first responders. In a school environment,
your teachers are the first-responders," Santangelo said.
District 100 Assistant Superintendent Jane Bagus and District 98 Superintendent Carmen
Ayala said the Berwyn Police Department contacted the districts in December
with the idea for the training.
Bagus said the school districts think it's a good thing to be prepared to care in emergency situations.
"I think it's wonderful," Ayala said. "We have more ways of saving lives."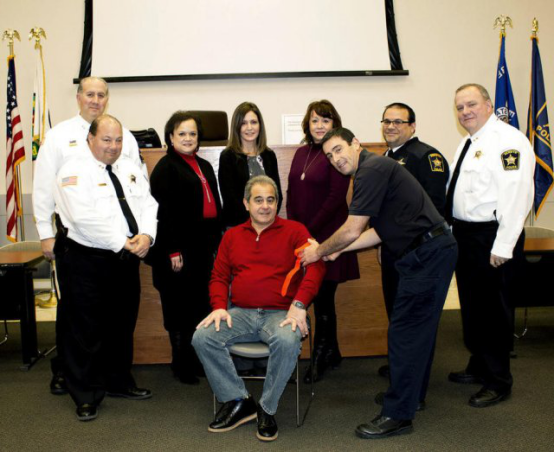 Training by Police Sgt. Ricky Smith and Berwyn Fire Department personnel started in January
at the police station. It will continue through the year until all employee training is finished.
"We had nothing but positive feedback from the staff we've done so far," Santangelo said.
The program is not costing the city any additional money, he said.
The training is done while officers are on duty.
Santangelo said the program will be given to all schools in Berwyn, including Morton West Hig
h School and private schools. Districts 98 and 100 were the first two to come on board, he said.
Ayala said the initial training lasted a couple hours and taught participants where it is appropriate
to use a tourniquet and what items can be substituted for a regular tourniquet.
Trainees included District 98 teachers, bus drivers, lunchroom staff and custodians.
Another training is scheduled for Feb. 28.
Bagus said custodians and physical education teachers were trained at her district's first session,
and administrators will be taught in February.
"One of our goals is to get as many of our staff trained in emergency procedures as we can," she said.
Both school districts will buy tourniquets for their schools that are the same as what staff
members were trained on and what the police and fire departments use, Ayala said.
Bagus said District 100 will put tourniquets in eight schools and the administration building and
would like to have one on each floor, in the red emergency backpack and in a defibrillator.
"We hope we never have to use them," she said.
Santangelo said he personally does not know of any other communities doing this.
Mayor Robert Lovero also is a supporter of the program, he said.
"Each year, medical advancements enable us to keep our children safer," Lovero said in a statement.
"With every passing minute being crucial to whether or not a victim survives,
teachers will be more empowered, having been trained to assist their students and colleagues
in case of an emergency."