China renews health commitment
Views:6 Author:Site Editor Publish Time: 2018-03-16 Origin:Site
Kenyan maternal and infant care program is given pledge of support as ambassador presents donation
A maternal and infant health program spearheaded by Kenya's first lady has been given a new boost by the Chinese government, which has committed to a continued partnership in the next five years.
Liu Xianfa, the Chinese ambassador to Kenya, also announced that China is urging Chinese companies doing business in the country to recruit and train more women for the betterment of the community. "We know that when a mother prospers, a family prospers too," Liu said during a ceremony led by Kenyan first lady Margaret Kenyatta to launch the 2018-22 strategic framework for the program.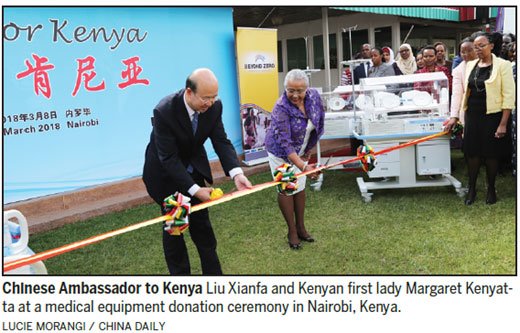 Known as the Beyond Zero campaign, the program was launched in January 2014 to improve maternal and child health in Kenya. According to the Joint United Nations Programme on HIV/AIDS, or UNAIDS, 15 women die each day in the country due to pregnancy-related complications, and 20 percent of the deaths among mothers are AIDS related.
China has been a partner in the four years since the campaign was launched, funding the purchase of mobile clinics and medical equipment, Liu said while handing over equipment valued at around $130,000, including infusion and micro-injection pumps that will benefit facilities in Nairobi and Tana River counties.
Liu said that the continuing partnership is part of China-Kenya strengthened relations and a south-south strategic program. "We have previously participated in the Beyond Zero program, and we are determined to contribute more. We are paying a lot of attention to the empowerment of Kenyan women, especially in the standard gauge railway. We have seen women undertake training programs in China to be locomotive drivers, and I believe they will empower their children. We are also mobilizing other Chinese companies to participate in this program. In another five years, we are going to see visible benefits from these efforts."
The ambassador hailed the first lady's efforts, saying they have already contributed to the cutting of maternal and child mortality, the effective prevention of new HIV infections among children, and expanded partnership in healthcare services.
"We know that this is just the beginning, and the new strategic framework will bring much more gratifying progress in the coming years," Liu said.
China has aligned itself with Kenya's efforts to improve public healthcare and has been instrumental in the building and equipping of four major health facilities, he said.
"We look forward to deepening our partnership with the Beyond Zero program to tap our cooperation potential," Liu said.
Kenyatta announced that the project would take a more targeted approach to promote women's, adolescents' and children's health issues. "This is the time to push, and to push hard," she said. "We have learned from experience and aim to make the campaign more effective. I look forward to consolidating my contribution to support solutions that address the social issues of our nation, initially by revamping existing health centers and in time by putting up a special mother and child Beyond Zero hospital," she said.
The first lady said the new framework is integrated with the sustainable development goals, Vision 2030 and the national agenda, also known as the "Big Four", to provide universal healthcare by 2022.
So far, the campaign has seen 52 ambulances distributed in 47 counties to assist expectant mothers who have difficulty getting to the nearest health facilities.