Chinese doctors restore eyesight to Maldives patients
Views:3 Author:Site Editor Publish Time: 2017-09-29 Origin:Site
In just seven minutes and eight seconds, Chen Weirong, an ophthalmologist from Guangzhou's Zhongshan Ophthalmic Center, performed cataract surgery on a patient at Hulhumalé Hospital in the Maldives.
Chen is part of a team of doctors which arrived from Guangzhou in September to perform eye surgeries for the people of the South Asian island nation.
Patient Abdulla Didi, 66, hadn't been able to see for five years due to cataracts, and was elated when he regained his sight after just several minutes' of surgery.
A patient at Hulhumalé Hospital gives the thumbs-up after a successful cataract operation performed by a Chinese doctor.
On Sept 10, the first day of the medical visit, Chen completed 33 cataract surgeries – a record daily number for any one doctor in the Maldives.
Hulhumalé is a reclaimed island located in the south of North Male Atoll, Maldives, home to nearly 50,000 people. Due to its strong sunshine, many islanders suffer from eye diseases such as cataracts, with many unable to receive proper treatment.
As China presses ahead with its Belt and Road Initiative, cooperation in all areas, including healthcare, has been strengthened in recent years. For Chen it is her second trip to the Maldives, following a medical cooperation project in January last year with the Chinese team performing 107 cataract surgeries.
Chen and her team also teach local doctors how to perform the operations including Mohamed Waahid, a doctor at Hulhumalé Hospital.
Chen is one of the Chinese top experts in cataract treatment and performs an average of 3,000 cataract surgeries every year. Since 2013, Chen has volunteered to treat patients in six South Pacific Ocean island countries including Fiji and Vanuatu.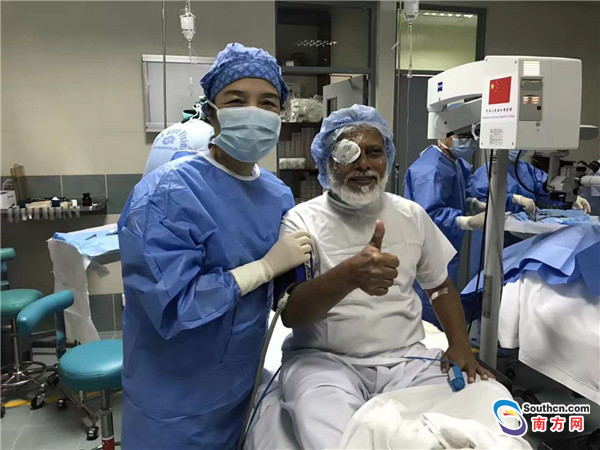 Chen Weirong, an ophthalmologist from Zhongshan Ophthalmic Center, Sun Yat-sen University, poses for a photo with doctors from Hulhumalé Hospital. [Photo/southcn.com]