Coast Guard rescues 6 from sinking scallop boat
Views:7 Author:Site Editor Publish Time: 2016-11-21 Origin:Site
NEW BEDFORD — The U.S. Coast Guard, with the help of a well-coordinated local
marine emergency team, rescued six crew members aboard a sinking scallop boat
in Buzzards Bay Sunday morning.

The 72-foot scalloper Captain Jeff, home ported in New Bern, N.C., had been fishing
at sea and was en route to the port of New Bedford to offload its catch. It was about 5
miles from New Bedford in an area near Great Ledge when it ran into trouble, according
to the Coast Guard and local rescue officials.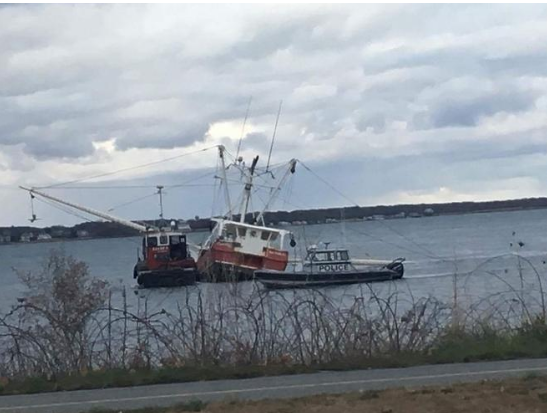 A crew member contacted the Coast Guard in Woods hole via radio around 9:30 a.m.,
and reported that the boat was taking on water. The Coast Guard then dispatched a
47-foot Motor Life Boat and crew from its Menemsha station on Martha's Vineyard,
along with a helicopter crew from Air Station Cape Cod.

The Buzzards Bay Task Force, an organization of SouthCoast-area police, fire and
harbor personnel with marine rescue capabilities, also responded.

At the scene, a Coast Guard "swimmer" was lowered from the helicopter onto the sinking
vessel, along with equipment to remove water," said Lt. Jarrod Pomajzl, Coast Guard
command center chief, for Southeast New England.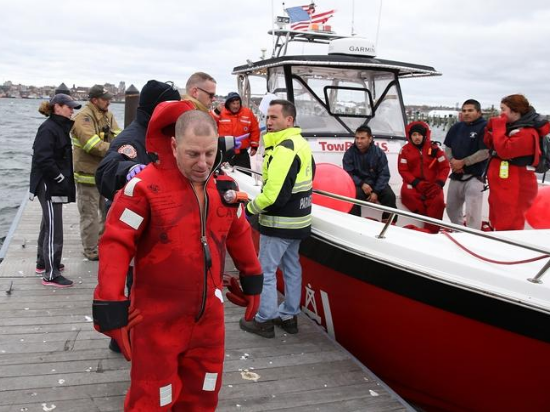 The off-water equipment and bilge were not successful in removing the water, so the the
Coast Guard determined the best course of action would be to evacuate the vessel.

The swimmer assisted crew members as they boarded a Fairhaven rescue boat,
said Wayne Oliveira, public information officer for the Fairhaven Fire Department.

The crewmen were then taken to Pease Park Boat Ramp, where they were evaluated
by Fairhaven paramedics for exposure to the cold, Oliveira said.

Conditions on Buzzards Bay were pretty bad, Oliveira said. "Hi seas, wind, water and cold spray."

After the rescue, the Captain Jeff was towed into a shallow area so water could be removed.
It was expected to be towed into New Bedford Harbor by Conrad Roy Co., where more water
could be pumped before repairs can be made, Oliveira said.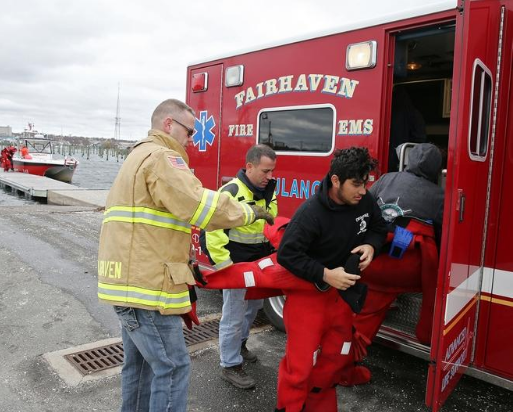 The Buzzards Task Force included members of Fairhaven and New Bedford fire departments,
Tow Boat U.S., Fairhaven and New Bedford harbormaster and Dartmouth
Fire Department, Oliveira said.

"The Coast Guard is grateful for the responsiveness and dedication of our interagency
partners in Buzzards Bay," said Pomajzl in a statement to media.

"Everything they bring to the table improves the search and rescue system, and today
they helped save six lives."

Oliveira, who is also a member of the Buzzards Bay Task Force, said the group has
trained extensively for operations such as Sunday's rescue, and members were ready
and able to assist.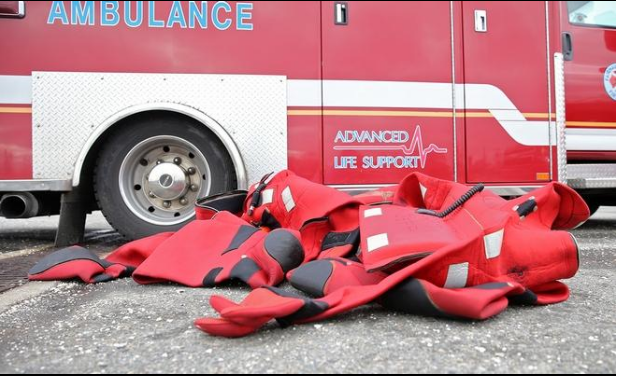 Participating members are contacted when there's a missing boater, sinking boat or some
other marine emergency, said Oliveira, and they communicate with one another to
coordinate the response.

You can never have too much help in an emergency, Oliveira said.
"There could be people missing or in the water."

"The Coast Guard appreciates the help from local communities,
and we certainly appreciate the work they do," Oliveira added.

The cause of the scallop vessel's problems is under investigation, Coast Guard officials said.