Death toll from China truck-bus crash rises to 12
Views:4 Author:Site Editor Publish Time: 2017-05-17 Origin:Site
NANCHANG -- The death toll from a truck-bus crash in East China's Jiangxi province
Monday has risen to 12, local authorities said Tuesday.
Two people, including the bus driver, died at hospital after medical treatment failed.
Another six were still being treated.
The accident happened at around 5:25 pm Monday on a national highway in Yingtan city
when a truck collided head-on with a bus, according to the city's publicity department.
A total of 30 people sustained minor injuries.
The bus was severely damaged.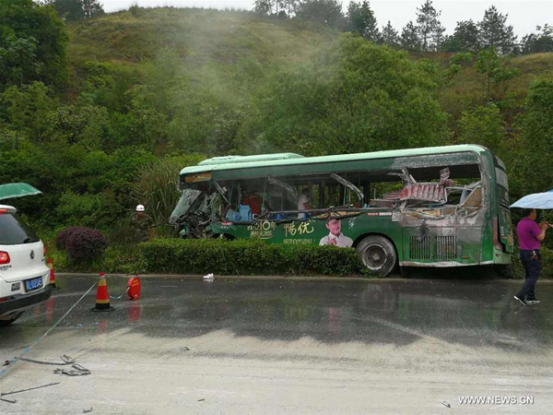 A video recorded at the site showed passengers standing in rain and a woman
screaming to her phone, shouting that "people on the bus are covered in blood"
and she "can't wake them up."
More than 300 medical workers were involved in the emergency treatment.
In addition, more than 120 locals have donated 40,000 ml of blood.
The truck driver has been detained, and an investigation is under way.
Photo taken on May 15, 2017 shows the site of a traffic accident on a national highway
in Yingtan, East China's Jiangxi province.
Ten people have been killed and another eight are severely injured following
a traffic accident here on Monday afternoon.