Expert: Integrate medical resources
Views:16 Author:Site Editor Publish Time: 2017-02-05 Origin:Site
Beijing, Tianjin and Hebei province have been urged to better integrate their medical resources to improve the quality of health services for all residents in the region.
"Better integration would increase efficiency and help control medical expenditure, so that people can get quality, safe and sustainable basic health services," said Wang Yixin, a professor of general medicine at Beijing Anzhen Hospital.
She was speaking at a discussion during the annual session of the Beijing Committee of the Chinese People's Political Consultative Conference, the top advisory body, which concluded on Tuesday.
"Integration would help address the issue in Beijing, home to most of China's top hospitals, of hospitals being overloaded with patients, which puts a great strain on resources and makes it difficult for people to receive medical care," Wang said.
Thirty percent of patients at all major hospitals in Beijing in the first half of 2016 were from outside the capital, according to the Beijing Municipal Commission of Health and Family Planning. More than 7 percent were from neighboring Hebei.
At the Beijing Children's Hospital, for example, doctors receive more than 10,000 patients a day during peak seasons, with more than 70 percent of the patients coming from outside Beijing.
This means patients often have to wait hours to see a doctor, sometimes resulting in clashes between medical staff and patients.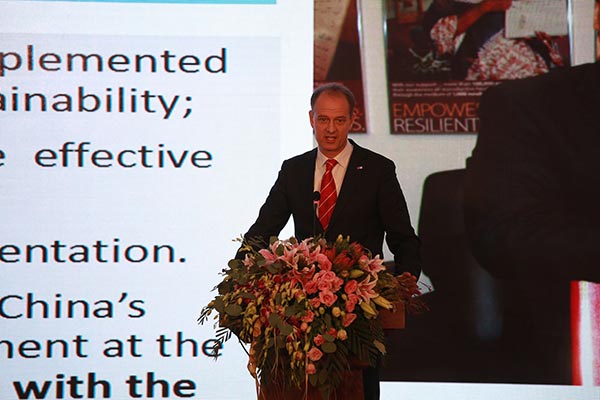 Yue Changhai, a member of the China Association of Medical Equipment and the CPPCC Beijing Committee, suggested the city government take measures to guide top hospitals that receive most patients from outside Beijing to establish branches in neighboring areas.
"Such a measure would help control the number of patients flowing into core areas of Beijing and ease traffic congestion," he said. "Meanwhile, it would make hospitals less crowded and enable them to provide more people with quality services."
The Beijing municipal government is encouraging major hospitals in urban areas to relocate some facilities to the suburbs. Beijing Friendship Hospital, for example, is building a hospital in Shunyi district, while its original site downtown is being scaled down.
Health officials have also encouraged hospitals to cooperate with clinics in neighboring areas such as Baoding and Zhangjiakou, both in Hebei, to help improve the hospitals' service quality and capability.
Wang said hospitals in Beijing, Tianjin and Hebei should make full use of information technology to establish an online medical platform covering the whole region to promote coordinated development of healthcare.
The government should also make more favorable policies for medical cooperation and integration in the region, she added, such as encouraging experts from big hospitals to provide training and services at community health clinics.