Introduction of emergency trauma dressing from Emsrun
Views:20 Author:Site Editor Publish Time: 2018-08-16 Origin:Site
With the advancement of medical technology, related medical equipment is becoming more and more abundant. In the medical field, emergencies are often encountered, and there are many supplies that are suitable for first aid. Emergency trauma dressings are a very good medical product suitable for emergency situations and can quickly treat traumas. Let us take a look at emergency trauma dressings.
Trauma dressings are bandages that apply them to the trauma to treat open traumas to help prevent foreign objects and contaminants such as dirt and bacteria. They are also used to help stop bleeding, help stabilize strayed objects, and prevent life-threatening conditions of pneumothorax. There are many types of dressings, each of which is used for a specific purpose in the case of a particular type of trauma.
Emergency trauma dressings are medical supplies that are used exclusively for first aid, greatly reducing the risk of increased patient condition.
The emergency trauma dressing uses a dress from real combat, consisting of an elastic wrap, a sterile non-adhesive pad, a durable fixture, a strap and arm, a splint to the limbs or any other A feature that requires flexible wrapping.
Emsrun Bandage Series: An trauma dressing bandage provides an effective and constant pressure bandage for treating trauma control bleeding. In general, flat trauma dressings are packaged in a low cube space with a flat folded configuration to reduce their diameter and footprint in the kit. This trauma dressing consists of an elastic wrap, a sterile non-adhesive pad and a durable fixture and an innovatively designed rolling control configuration. This combination helps to achieve fast, controlled and extremely efficient first aid in the most demanding conditions.
Emergency trauma dressings can also be used for slings and swinging arms, securing splints to limbs or performing any other function that requires elastic wrapping. Sometimes it can also be used as a tourniquet to stop bleeding. We have different types of trauma dressings.
In general, Emsrun's emergency trauma dressing has the following advantages:
• Non-sterile quality, warranty for up to 5 years, approved by FDA, with CE and ISO13485 certificates.
• Most trauma dressings are suitable for immediate application of direct pressure, enabling fast and direct pressure control even under the most extreme conditions.
• Due to its flat folding and vacuum configuration, it is designed to fit in a kit or other flexible bag.
• This emergency trauma dressing is easy to use and easy to operate in combat or emergency situations.
General specifications are listed below. If you have different requirements, you can design them separately.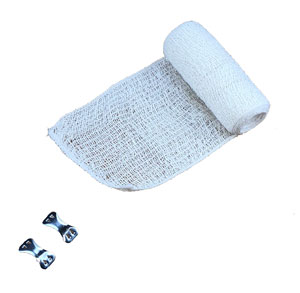 - Packing: 5-1 / 4" L x 6" wide x 1-1 / 2" D
- Bandage: 70" L x 6" W
- Pad: 12" L x 12" W
- Weight: 5 ounces.
High-quality emergency trauma dressings are used in emergency situations. They are simple and practical medical products that can greatly alleviate the suffering of patients and save time and reduce the number of deaths and injuries for subsequent treatment. If you want to know more, you can browse our website or feel free to contact us.