KILLER'S DYING BREATHS
Views:5 Author:Site Editor Publish Time: 2017-07-28 Origin:Site
Shocking moment bloodied Westminster terrorist Khalid Masood is brought into hospital on a stretcher as shocked staff realise they are treating fanatic who killed five outside Parliament.
The BBC series also documents the story of some of the victims of the attack
Viewers watched as Masood was rushed into the Accident and Emergency department flanked by two armed officers with machine guns.
He was the first casualty of all of those involved in the incident to arrive at the hospital and is seen being wheeled into the hospital on a trolley partially dressed.
But Masood, who mowed innocent pedestrians down on Westminster bridge before stabbing a police officer outside the Houses of Parliament, is soon declared dead.
A doctor informs medical staff he is "RIP" before telling the armed officers to guard his dead body in a makeshift mortuary.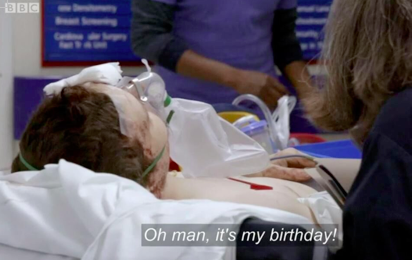 Newlyweds Stephen and Cara were also caught up in the attack and Stephen is shown being treated in hospital.
Cara explains to the camera how the couple "don't go out a lot" but it was a special occasion.
She also breaks down in tears as she describes seeing Stephen "covered in blood".
She adds: "Everyone goes through s*** you know, but not this.
"Not being ploughed down."
Brit victim Stephen, who was celebrating his 40th birthday, had to have emergency surgery to save his leg.
Other victims which feature in the programme include French students Yann, 18, and Victor, 16, who were on the final day of a trip to London from Brittany, France.
Yann had to have his scalp sewn back together after being hit by Masood's vehicle – while Victor suffered a collapsed lung.
Yann said: "I felt scared, very scared. I didn't know what was going to happen or if I was going to die. I thought of my mum."
Victor was shown wincing in pain in his hospital bed.