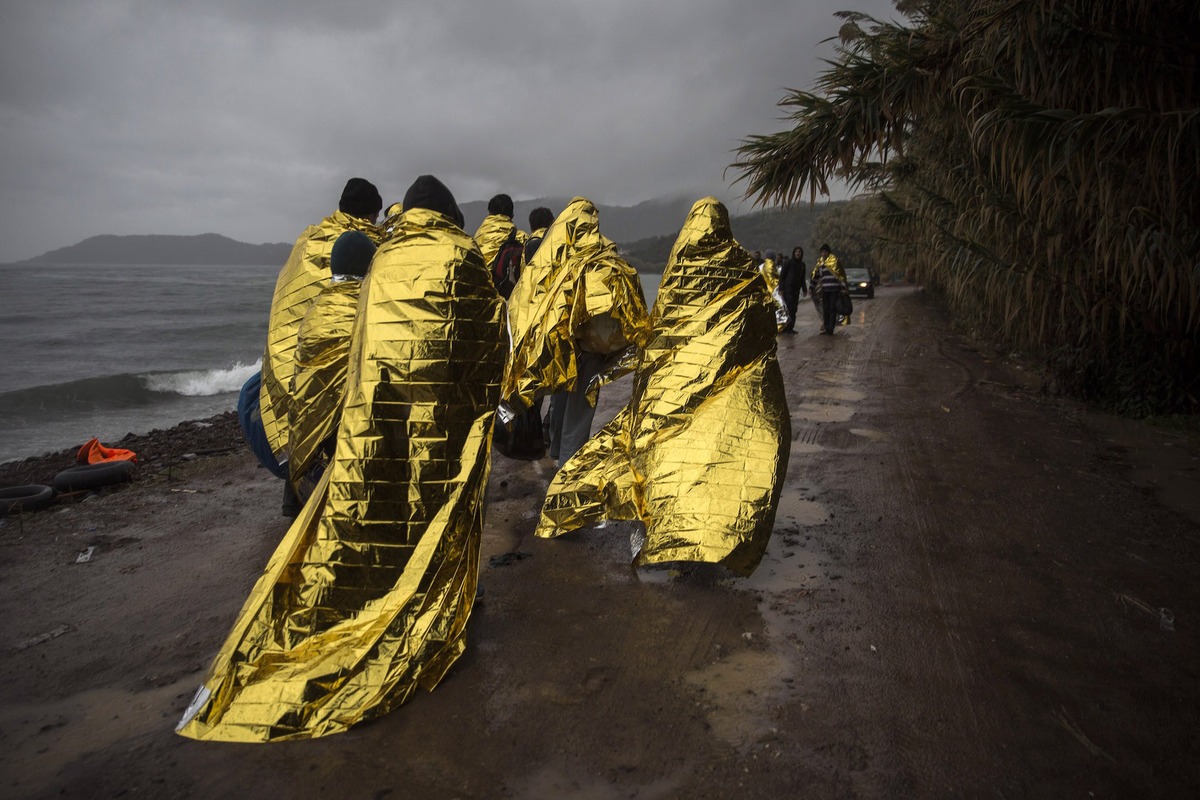 A number of people were killed and several others were injured last night
after reports of an explosion towards the end of a pop concert at Manchester Arena.

Greater Manchester police confirmed that a major incident was under way at the arena,
where witnesses reported a loud bang after the end of a performance
by the American singer Ariana Grande.
Concertgoers fled in panic amid fears of a terrorist attack,
although as the incident developed there was no official confirmation by police about its nature.
Police did say that a bomb disposal unit was on the scene.
Witnesses said that they had heard one or two loud bangs inside the arena,
with some saying that the noise had come from the bars.
There were also suggestions that a speaker had blown up.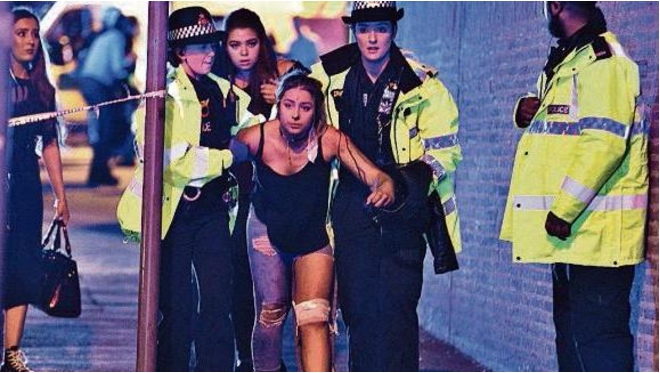 Greater Manchester police said on Twitter: "Emergency services are currently responding to
reports of an explosion at Manchester Arena.
There are a number of confirmed fatalities and others injured.
Please AVOID the area as first responders work tirelessly at the scene.
Details of a casualty bureau will follow as soon as possible."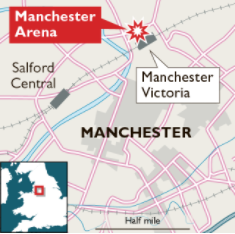 Police wearing body armour flooded the area and walking wounded were being treated by paramedics. There were several concertgoers outside the arena with injuries.

Witnesses said that the explosion had happened at around 10.40pm,
about ten minutes after Grande had performed an encore.
Some fans told how they were trampled in the panic.
Police cars and ambulances arrived rapidly and Victoria station,
beneath Manchester Arena, was closed.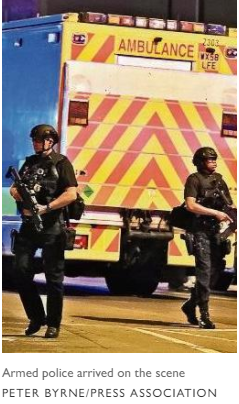 A video on social media showed panic inside the stadium,
with fans rushing towards the exits. Much of the crowd were girls in their early teens,
attending with their parents.
Daniel Pickering, 20, suffered a head injury. He said: "We were walking out,
the encore had just finished. We heard this massive bang. It was a flare of orange,
bright orange, loud, bang and then we ran." Anne-Marie, 31,
who attended the concert with her 11-year-old daughter Keeley,
said: "Ariana had finished off doing Dangerous Woman.
She finished and the lights came on and there was a big bang,
the stairwells were blocked because people were running.
Two minutes later there was another bang. The police were everywhere and people were shouting,
'Bomb, bomb'."
Catherine Macfarlane said: "It was a huge explosion — you could feel it in your chest.
It was chaotic. Everybody was running and screaming and just trying to get out of the area."
Catherine Macfarlane said: "It was a huge explosion — you could feel it in your chest. It was chaotic. Everybody was running and screaming and just trying to get out of the area."
Samantha Rain, 27, was trapped in between the seats and was trampled on by other panicked fans.
Jade Baynes, 18, from Hull, was told to run from the area by armed police.
She said that she heard what sounded like gunshots.
She added: "Everyone tried to scramble out.
An alarm came on telling everyone to stay calm but leave as quickly as possible."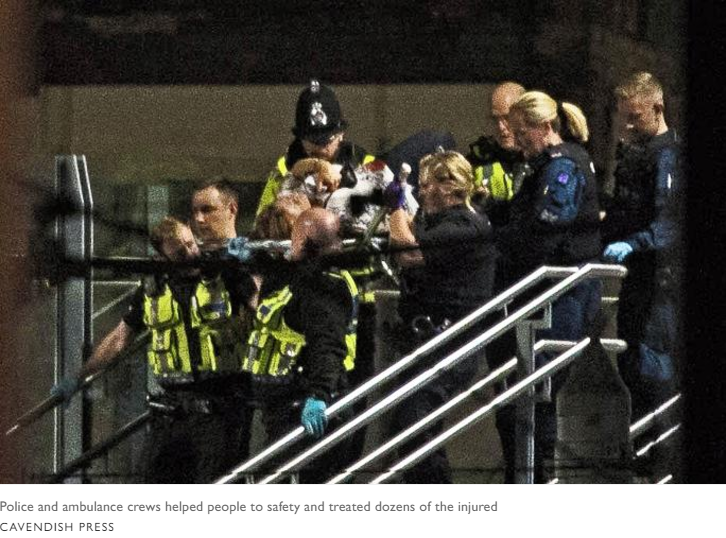 Robert Tempkin, 22, from Middlesbrough, said: "Everyone was screaming and running,
there were coats and people's phones on the floor.
People just dropped everything.
Some people were screaming they'd seen blood but other people were saying
it was balloons bursting or a speaker had been popped.
"There were lots of ambulances. I saw somebody being treated.
I couldn't tell what had happened to him."
Steve Rotheram, Liverpool City region metro mayor,
wrote on Twitter: "My 2 daughters caught up in the Manchester explosion at the arena.
They are thankfully safe, but I fear for others."
Up to 50 children separated from their parents were in a nearby hotel.
Grande's spokesman said that the singer was "OK".
Armed police were opposite the Arndale Centre last night.
Manchester Victoria station was evacuated and all trains cancelled.