Shelter Box aid arrives in Haiti to help quake victims
Views:14 Author:Site Editor Publish Time: 2016-09-23 Origin:Site
Boxes from the Cornwall aid organisation ShelterBox have begun to arrive in Haiti,
the charity says.

Aid workers said the first consignment of boxes containing tents and other emergency
supplies arrived at Port-au-Prince Airport on Monday.

Twelve boxes will be used for an emergency field hospital at the airport. Hundreds
more boxes are expected to arrive later on Tuesday.

More are also to be flown to Haiti directly from Newquay Airport.

The devastation in Haiti has moved everyone here
Charity founder Tom Henderson

Charity response team member Mark Pearson said the field hospital was to help
deal with "desperate conditions" in the surrounding area.

He said: "Amputations are happening every half hour. There's an urgent need for
tents at hospitals and this is our first priority."

ShelterBox's head of operations John Leach said the charity was working with
other agencies in the area.

He said: "We are working with the agencies on the ground to ensure that ShelterBoxes
are not only distributed speedily and efficiently, but that our team on the ground is able
to work in a safe environment."

Hundreds more boxes are due to arrive in Port au Prince later on Tuesday
from Miami on a chartered aircraft.

Thousands more are being packed and shipped from the charity's base in Helston.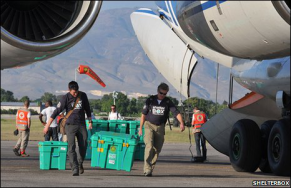 About 700 are due to be flown to Haiti on Wednesday directly from Newquay
Airport on a chartered Airbus A300 freight plane.

If the 40 tonnes of aid, with enough emergency shelter for 7,000 people, cannot
be directly flown from Newquay to Port au Prince, the cargo will be taken to nearby
Santa Domingo and the transferred, ShelterBox said.

Charity founder Tom Henderson said: "The devastation in Haiti has moved
everyone here.

"We now have our boxes on the ground and it's a privilege to help. The scale of
devastation is huge."

Each ShelterBox contains a 10-person tent, blankets, water purification and
cooking equipment, tools, a stove and other essential survival equipment.