Wuxi (Chinese: 无锡) is an old city in southern Jiangsu province, China. The city  covers a coastline of the
Yangtze River in the north and two separate coasts of Lake Tai.
Wuxi is well known for being one of the birthplaces of China's modern industry and commerce, as well as the hometown of many important businessmen, who have played essential roles in building commerce in Shanghai since the early 20th century?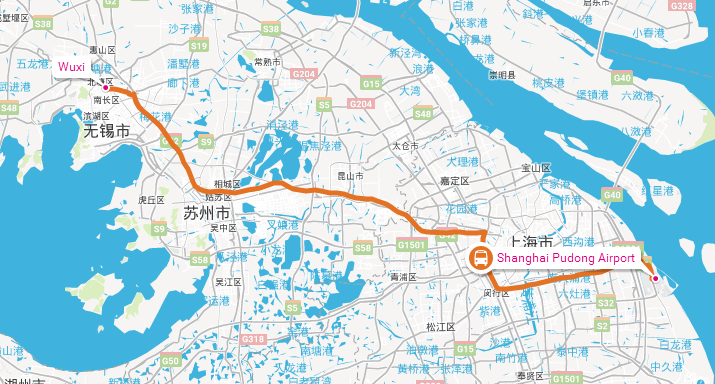 Steps.
Take the train.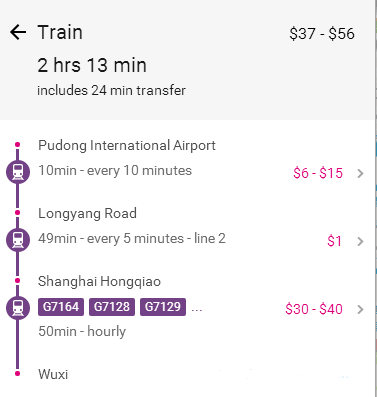 Take subway to shanghai hongqiao train station from Shanghai pudong airport(PVG). Then take train from
hongqiao train station to wuxi, this is the safest and most comfortable way.
There are more than 40 trains
commuting between Shanghai and Wuxi every 24 hours, and the high speed train is available now. It is a
45-minute to 1 hours ride for about 59RMB (9USD) one way.
Trains run every 10 minutes (at least in peak
hours) from Shanghai Hongqiao train station (the one next to SHA Shanghai airport). There are English-version
ticket vending machines that are your best solution to purchase tickets.
Journey by bus.


Bus is the most convenient way to travel during the daytime. The highway between Shanghai and Wuxi is one
of the best in China and definitely matches international standards. On average, it takes 2-3 hours station to
station traveling time.
The one way ticket price is 100RMB (15 USD).
Compared to taking the train, it is more frequent. Buses depart almost every 10 to 20 minutes time 8am to 8pm.
Catch a taxi.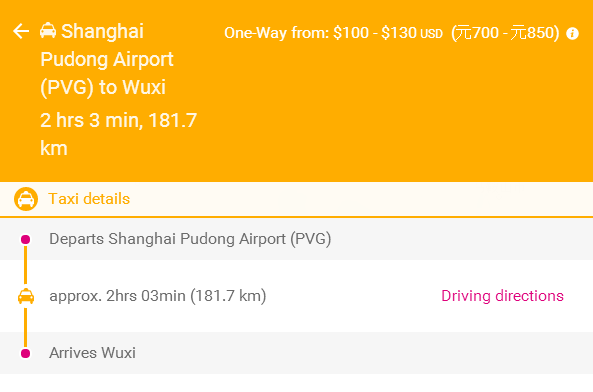 This is the most flexible but also the most expensive way to travel to Wuxi. You can basically get a taxi anyway,
anytime from Shanghai Pudong airport(PVG) . And it normally takes around 2 hours door to door, with traveling
time depending on the traffic and your departure and destination locations.
Hire a rental car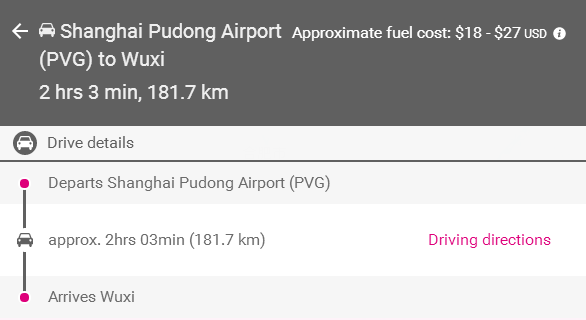 There are several rental car services available which you can find by searching
"Shanghai rental car" on an Internet search engine. Considering China's high road accidents rate, the different local
driving habits and rules, and the fact that you can only drive with a valid Chinese Driving Lice